I work in an environment where my perspective and contributions matter
"I work in an environment where my perspective and contributions matter"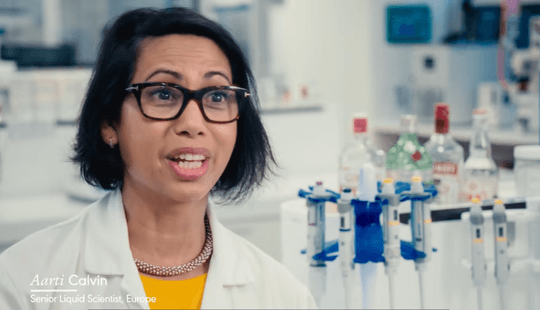 This International Women's Day, Diageo is speaking to women and men across the business about equity, and the small changes we can all make to ensure women have the right resources and opportunities to succeed.
This is something particularly relevant in STEM (science, technology, engineering, and mathematics), a stereotypically male-dominated industry. Factors including a lack of role models and persistent negative labels mean women only make up 28% of the industry's global workforce, making it an area where greater action is needed to attract women at all levels and help them progress.
Aarti Calvin is a Senior Liquid Scientist within Diageo's European Innovation R&D team. Based in the UK, she has been at Diageo for almost 20 years, and is part of a team that is breaking the view of science being "boring" and male.
Outspoken on promoting female representation across STEM, Aarti's perspectives today have been shaped by how her career has progressed alongside personal life stages. Being a full-time single mum, Aarti acknowledges that many women in similar situations are forced to sacrifice either their careers or being a mother to support the alternative, and that many businesses do not offer the right resources to allow women to thrive regardless of their circumstances.
With her daughter now 16 and an aspiring scientist, Aarti has praised Diageo for allowing her to thrive at work without compromising on being a role model for her daughter, and has called for other businesses to follow suit.
"Diageo's effort to build an inclusive culture and greater diversity in STEM means I work in an environment where my perspective and contribution matter. There's nothing that can stop women from achieving their full potential, pushing boundaries to drive change."

Aarti Calvin

Senior Liquid Scientist