Watch our International Women's Day 2023 Launch Panel
Watch our International Women's Day 2023 Launch Panel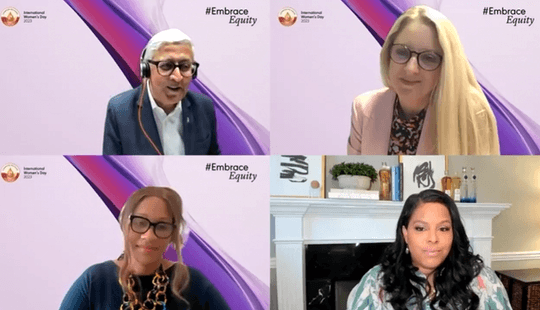 On Monday 6th March, Diageo hosted a virtual launch panel for International Women's Day, inviting all employees across the globe to engage in our opening celebration.
Hosted by our Chief HR Officer, Louise Prashad, the panel invited guests to talk openly about what equity means to them. Speaking on the panel was Diageo's Chief Executive, Ivan Menezes, who was also joined by two inspirational women who throughout their careers have been dedicated to championing diversity and inclusion:
Karen Blackett OBE - Non-Executive Director at Diageo. A proven business leader across media and advertising, Karen has a track record in creating vibrant cultures, energising teams, and consistently delivering business growth and success. She is UK President of WPP, the world's largest marketing services group.
Dia Simms - Co-Founder of Pronghorn. Diageo partners with and is a majority investor in the stand-alone incubator 'Pronghorn', and under Dia's leadership it has made significant progress toward its ambition of cultivating the next generation of Black leaders within the North American spirits industry. Dia is also the Chief Executive of Lobos1707, the premium US tequila brand.
The panel aimed to instill pride in Diageo's truly inclusive culture and demonstrate how equity is a core enabler of our I&D strategy. Across an inspirational 45 minutes, each spokesperson provided a personal perspective of what equity means to them, how it has presented itself in everyday life, and what we can all do to #EmbraceEquity.
Find out more about our bold I&D goals for the future here