Hear from our Chief Innovation Officer on his talk at Cannes Lions 2023
Hear from our Chief Innovation Officer on his talk at Cannes Lions 2023
Cannes Lions is a significant and exciting event in the calendar year for the creative marketing community and 2023 was no different. This was the 70th year that the festival has taken place and it draws all the major media and creative agencies, tech companies, brand owners – and even celebrities together for the week. The format of the week includes awards for the best campaigns of the year, and also a number of high profile panels, talks and presentations about the most pressing marketing issues of the year.
Diageo showed up brilliantly with a number of different presenters speaking at events, with a common set of themes reflecting our major priorities: creativity with precision or progressive portrayal for example.
I was delighted to take part in several events throughout the week including a keynote presentation on the Palais II stage about Diageo's innovation agenda, and the need for us to be comfortable with failure, if we are to push the boundaries of the category. Here are some of the headlines of what I discussed.
Diageo is a company that has been built by innovation – whether from the giants who innovated brands like Guinness and Johnnie Walker hundreds of years ago, to more recent founders who created Baileys, Don Julio or Seedlip. One of the privileges of working for Diageo is the opportunity to not only be custodians of established brands like Guinness, Johnnie Walker, Smirnoff, Tanqueray and Baileys for this phase of their life – but also to think about how we can develop and reinvent them for the next.
This requires a long-term view and a recognition that this will be a constant evolution of technology, experimentation, and failure.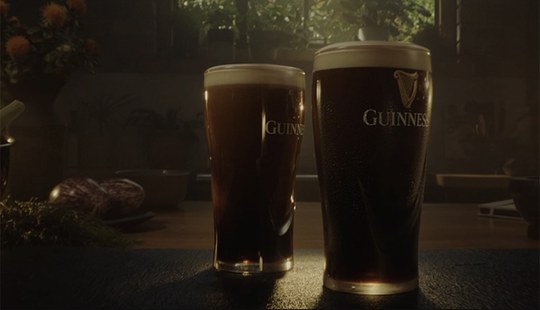 Guinness is a prime example of the successes that can be had by this approach. For over 60 years we have experimented with different ways to deliver the unique Guinness surge and settle. Some of the early versions included a syringe or even a bath for the bottle – and although these did not catch on, the learning they created paved the way for Guinness Surger, and the launch of the 'widget' in Guinness cans. The learning from these projects has then led to the recent cutting-edge GUINNESS MICRODRAUGHT and GUINNESS NITROSURGE products. In fact, within the first year of NITROSURGE launching, 1 in 5 households in Ireland (where I live) owned one. Like all our brands, it was – and continues to be – an ongoing cycle of experiment, fail, learn, launch, and succeed.
Of course, we're also constantly looking to give more options to our consumers - those, perhaps, who want to explore ways to drink less, or more mindfully. This is why several years ago, we started exploring how to recreate the taste of some of our most-loved drinks via our low and no category. Creating a credible and authentic alcohol-free experience was not easy, but through our deep consumer understanding, work with brilliant creative entrepreneurs, and willingness to explore several different workstreams knowing not all of them would work, we have been able to create iconic products like Gordon's 0.0%, Tanqueray 0.0% and Guinness Zero.
Getting comfortable with failure is important because the challenges facing marketers over the next decade are bigger, harder, and less clear.
It's not just in marketing we need to innovate. Whilst we have identified solutions that we can activate immediately over the short-term, the longer-term is going to require true breakthrough thinking. 
From using regenerative agriculture when producing our raw materials to light-weighting glass or overcoming the obstacles surrounding paper packaging, we don't yet know which of these environmental solutions are going to be most effective – but we will only learn by doing.
Another important aspect is the evolution of technology. The way our digital tools are evolving means that we can now fail faster than ever before. AI was unsurprisingly a dominant theme at many of the talks I attended at Cannes. At this relatively early stage, it is difficult to distinguish between the hype surrounding the technology and the powerful real-use cases. However, what is clear is that the brands that determine how to use AI as a complement to human creativity will enjoy significant competitive advantage. At Diageo, we're carefully trialling how we can use the technology.
Leading through failure is hard. The talented colleagues I work with want to get meaning from success and progress - and making progress through being wrong can feel counterintuitive. Getting comfortable with failure therefore requires a clear long-term vision of where you are headed, a fertile creative process to explore a broad range of solutions, and ultimately an environment where it is the overall outcome that matters.
All of this taken together will help ensure we continue to build and nurture some of the world's most iconic brands that will stand the test of time.