Label bottles, not people: celebrating International Day of People with Disabilities 2022
Label bottles, not people: celebrating International Day of People with Disabilities 2022
Annually on 3rd December, we celebrate International Day of People with Disabilities (IDPWD), a day to show support for disability equality, learn from our colleagues, and challenge our thinking so we can adopt more inclusive behaviours and create opportunities for all.
If we look into our past, we can find many examples of building a culture to support those working with disabilities. During the second world war, a young brewer, John Brown, was badly injured and lost a leg however went on to be Head Brewer at St. James's Gate in 1968, playing an important role in the history of Guinness. 
As with gender, ethnicity, LGBTQIA+ and other intersectionalities of diversity, improving disability inclusion isn't just the right thing to do, it helps our business to grow. Below we take a closer look at some of our work around the world to support our people, partners and the communities in which we operate:
Boosting our employees' awareness
To enable everyone to have a better understanding of disability, hear from Diageo employees with a disability, and learn about the tools available to support those who need it, in October we launched disability inclusion guidelines. These guidelines were created in collaboration with Disability:IN and our employee resource group 'We Are All Able'. Now available in 15 languages, large font, and audio formats, we hope our guidelines will help foster a safe environment, and act as a powerful education tool. Building on this for International Day of People with Disabilities, we've created ten simple tips to help everyone improve digital accessibility in their day-to-day roles.
Because we don't want to make assumptions or generalise, we also launched disability disclosure, inviting employees to share their disability, allowing us to better understand the people who work with us, and ensure Diageo is an environment where everyone can thrive. Disability disclosure has now launched in Africa, alongside the United States of America, United Kingdom, Ireland, Hungary, India, Kenya, Uganda and the U.S. Virgin Islands with further markets to follow in the next 12 months.
This week, from America to Australia, Diageo sites across the world are lighting up purple to spark organisation-wide awareness, and our global headquarters in London is serving purple cocktails, with screens across the building displaying a message of equality "Label bottles, not people: celebrating differences".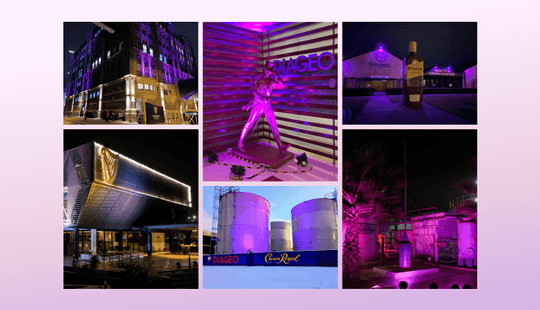 ­­To help us learn more about experiences in the workplace while living with disabilities we spoke to two of our colleagues:
When Rosemary Nakuya, a HR Business Partner in Uganda, collapsed and fell into a coma, she woke up to be visually impaired. Click below to hear her story: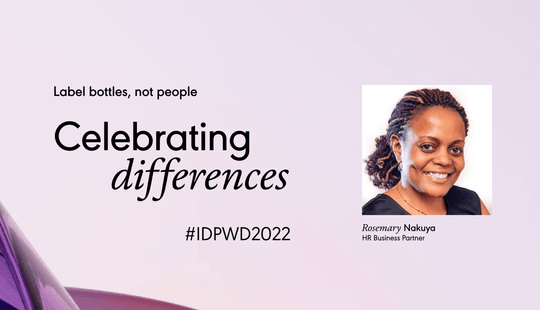 David, a Technical Operator based in Kenya is passionate about engaging colleagues on mental health. He's also been diagnosed with Bipolar Two Disorder. As David will tell you, the conversations we're having around inclusion are important, and the power of words can make a real difference.
"Bipolar Two Disorder does not impact my ability to deliver and perform, it just means I do things differently to ensure I'm at my best. Diageo has been really helpful and created a safe space for me to speak openly about my disorder, and encourage more conversations on mental health; an area that still has associations with stigma and taboo. I am so thankful for the support I've been given, because it helps me stay motivated, manage my condition, and raise awareness to others."
David, Technical Operator
Our commitment to community
By making social investments and forming partnerships with organisations around the world, we are committed to creating opportunities for everyone.
In India, we are proud to have a long-standing relationship with Youth4Jobs, a not-for-profit organisation which gives skills development training to people with disabilities. Over the last 18 months our Youth4Jobs partnership has seen us recruit, select and on-board more than 62 people with disabilities across our Diageo India manufacturing sites. Today, our colleagues have roles on our supply lines, including inspection and bottle filling, and we have regular connect sessions to ensure support is maintained. Looking forward, we've plans to hire beyond manufacturing over the next year.
"Our partnership with Youth4Jobs allows us to provide our teams with knowledge and guidance around how we can be truly inclusive. This is only the start, and we are continuing to improve accessibility at our sites where possible. We will continue to learn from those around us and my big ambition would be longer term, I would love to see the learnings on inclusivity from our manufacturing sites become more common practice within India."
Shilpa Vaid, Chief HR Officer Diageo India
Authentic representation across our brands
From the day we launched our first adverts from Guinness in 1929, we have aspired to tell stories that weren't available elsewhere and were told from different perspectives. Through our progressive marketing commitment we maintain this outlook today across all our brands.  
Most recently, Guinness unveiled a new campaign "Brothers", created for Africa, by the talented Africa Guinness team, for their African markets. The campaign celebrates how football fans make the experience of watching the game accessible for everyone, and introduce viewers to Miracle, who despite not being able to see the game, still brings an infectious energy that inspires others. Throughout the creative process members of the blind and visually impaired community were consulted to ensure the advert reflected an authentic experience.
Go behind the scenes and hear from Miracle here
By working together, we believe our efforts will help ensure we're celebrating all differences and accelerating the change towards inclusion. But we know there's more we can do. Days like International Day of People with Disabilities are an opportunity to chart a more ambitious course for the future, while raising awareness, not just at Diageo, but across our industry more broadly.
Find out more about our Society 2030: Spirit of Progress Inclusion and Diversity Goals.