Diageo celebrates Pride around the world
Diageo celebrates Pride around the world
We acknowledged the start of June with our largest Progress Pride flag-raising event ever, with 85 sites displaying the flag at distilleries, offices and production sites. Hear from members of the Rainbow Network and our network of allies as they share what this moment, and other celebrations throughout Pride, have meant to them: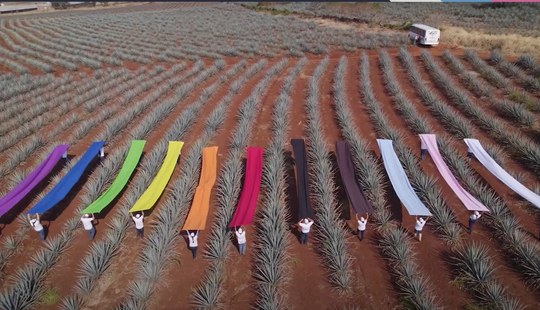 Some of the other events held by the Rainbow Network and allies around the world included:  
Diageo Great Britain launched a partnership with the UK's first national LGBTQ+ museum, Queer Britain, and welcomed an inspiring list of guests from the LGBTQIA+ community, our Rainbow Network, and allies at an event to celebrate. Our CîROC brand team hosted the first ever 'CÎROC Iconic Ball' in London to celebrate the 50th anniversary of the UK Pride Movement and supported the 'Not A Phase' charity in their work to create safe spaces for trans+ and gender-non-conforming communities.
In partnership with the Smirnoff Brand Team, the North America Rainbow Network, were joined by Alyssa Edwards, star of Ru Paul's Drag Race for a fabulous virtual Drag Bingo session.
A special happy hour called 'Stories that Inspire' with the support of our Gordon's brand, was held in Venezuela with Tamara Adrian, the first transgender person elected to office in Venezuela. Tamara shared her life story in favour of human rights and the LGBTQIA+ community.
Our Supply Chain & Procurement Rainbow Network hosted a Learning for Life event based at Johnnie Walker Princes Street in Scotland, aimed at upskilling hospitality teams across LGBTQIA+ venues, and held a virtual webinar with the 'We Are All Able' Employee Resource Group to highlight the intersectionality of people living with a disability.
We were proud supporters of Toronto Pride in Canada. And for the first time Smirnoff teams marched alongside The Liquor Control Board of Ontario (LCBO).
In Santa Vittoria, Italy the first Diageo Pride event took place with an external guest from the local LGBTQIA+ community.
In Mexico, Diageo was listed as a best LGBT+ company to work for. The team also began a local partnership with the Memory and Tolerance Museum, where Smirnoff became a sponsor for the "LGBT+ Pride and Legacy" expo.
We have become a founding corporate sponsor of OutBritain, the UK's first LGBT+ Chamber of Commerce, to help us connect with more LGBTQIA+ owned businesses. This is part of our target to increase the share of our global spend with diverse owned businesses to 15% by 2030.
At Diageo, the conversation continues beyond the month of June. There is still a long way to go for this community to be accepted in parts of the world.  Our work here will not be done until acceptance is everywhere.