Diageo introduces drones to drive farming efficiency and environmental benefits across tequila farming in Mexico
4 Apr 2023
|
Press release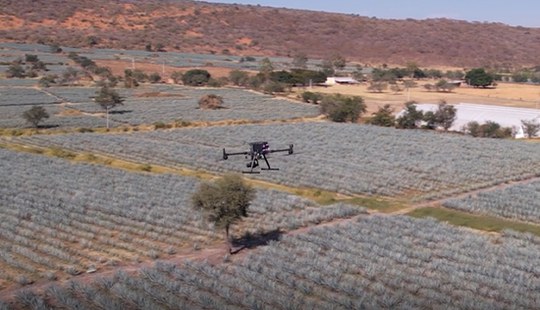 Drones in tequila farming to build data on agave plants to drive better farming decisions, reduce water and fertilizer use and decrease the use of vehicles to reduce carbon emissions
Drones work in partnership to collect data on agave plants, identify when the crops need support and dispense the required amount of a unique water fertilizer mix
Supports the continued growth of Diageo's tequila business and progress towards Diageo's ESG action plan, Society 2030: Spirit of Progress
4th April: Diageo, producer of Don Julio and Casamigos tequilas, continues to innovate and has introduced the use of drones on its agave farms in Jalisco, Mexico, following up a successful pilot conducted in 2022. This has enabled Diageo to upskill its agave planters for the future of the ever-growing tequila industry, and build their digital capability in flying the drones, integrating more efficient farming practices and drive environmental benefits.
Since mid-2022, drones have been in action to identify which agave plants need the pesticide and fertilizer water mix and how much, to ensure precious water resources are used only where needed, whilst driving efficiency across agave farming. Agave plants are the key ingredient in making tequila.
The drones work in pairs: one to identify the plants that need attention and collect data on the growth of the agave plants, and the other dispenses a unique water fertilizer and pesticide mix where needed at night when the stomata is open. The collection of data has helped the agave planters to make better decisions on resource use.
The data has also shown the best time of day to water the plants is the early hours of the morning when its cooler, there is less wind to reduce water loss and when the agave plant is more receptive to water. This has resulted in water use dropping by an expected two thirds, an important saving of precious resources. The drones have the capacity to fly over Diageo's agave fields, so fewer tractors are needed to be driven across the farmland, which has a secondary benefit of reducing carbon emissions.
Ewan Andrew, Chief Sustainability Officer, said: "As the demand for tequila continues to grow, we want to be able to increase our farming efficiency, but in a way that is also kind to the planet. This initiative is a perfect example of the two coming together. It's an exciting way in which we're using technological innovation to boost production, upskill our famers, and help us to meet our 2030 sustainability goals."
The use of the drones has also enabled agave planters to spend their time continuing to plant and nurturing the new agave. In Diageo's half-year results announced in January 2023, the company reported its tequila business grew 28%, securing its position as the number one producer of tequila in the world1.
Wellington Pauperio, Director for Supply Tequila & Mezcal at Diageo commented: "We're incredibly proud to be pioneering the use of drones across our agave farming, to improve efficiency in our agriculture operations while leading our industry innovation and technology adoption. This initiative also brings additional capabilities for our team, new opportunities for personnel in the communities we operate, and contributes to a more sustainable world by reducing the use of resources including water mix across our plantations. It has been a great cross-team collaboration for us to reach this point, and the results are speaking for themselves as we look into a better future."
The efficiency and precision agriculture efforts resulting from drone use, contribute to Diageo's 2030 ESG action plan, Society 2030: Spirit of Progress. Within the plan, the company has committed to preserve the natural resources on which our long-term success depends including to reduce its water use in water-stressed areas by 40% by 2030, and by 30% in all other areas.
To find out more on Diageo's sustainability action and commitments visit diageo.com
ENDS
1. IWSR 2022
Diageo is a global leader in beverage alcohol with an outstanding collection of brands across spirits and beer categories. These brands include Johnnie Walker, Crown Royal, JεB and Buchanan's whiskies, Smirnoff, Cîroc and Ketel One vodkas, Captain Morgan, Baileys, Don Julio, Tanqueray and Guinness.
Diageo is a global company, and our products are sold in more than 180 countries around the world. The company is listed on both the London Stock Exchange (DGE) and the New York Stock Exchange (DEO). For more information about Diageo, our people, our brands and performance, visit us at www.diageo.com. Visit Diageo's global responsible drinking resource, www.DRINKiQ.com, for information, initiatives and ways to share best practice