Biggest single investment in Scotch whisky tourism launched by Diageo
16 Apr 2018
|
Press release
New Johnnie Walker global brand attraction & distillery upgrades to grow appeal of scotch
Monday 16th April 2018: Diageo announces a £150 million investment over three years to transform its Scotch whisky visitor experiences in the biggest concerted programme ever seen in Scotland's whisky tourism sector.
The centre-piece of the investment will be a new state-of-the-art Johnnie Walker immersive visitor experience based in Edinburgh, bringing to life the story of the world's most popular Scotch whisky and creating a unique welcome for millions of Scotch fans around the world.
The company will also upgrade its existing network of 12 distillery visitor centres to create a new generation of Scotch attractions where people can meet the craftsmen and craftswomen who make the world's greatest distilled spirit and putting Scotland at the cutting edge of the global boom in food and drink tourism.
Whisky from Diageo's distilleries all over Scotland contribute to Johnnie Walker, but four distilleries, Glenkinchie, Cardhu, Caol Ila and Clynelish, will be linked directly to the Johnnie Walker venue in Edinburgh, representing the 'four corners of Scotland' and the regional flavour variations of Lowland (Glenkinchie), Speyside (Cardhu), Island (Caol Ila) and Highland (Clynelish) crucial to the art of whisky blending. Together this will create a unique Johnnie Walker tour of Scotland, encouraging visitors to the capital city to also travel to the country's extraordinary rural communities.
Diageo's other famous visitor distilleries: Lagavulin, Talisker, Glen Ord, Oban, Dalwhinnie, Blair Athol, Cragganmore and Royal Lochnagar, will also see investment to support the growth of single malt Scotch whisky. This is in addition to the £35 million already committed to re-open the 'lost distilleries' of Port Ellen and Brora, taking Diageo's network of distilleries with specialist visitor experiences in Scotland to 14.
The announcement comes as tourism in Scotland is experiencing record growth, with the global appeal of Scotch whisky playing a leading role in attracting visitors. It also comes as the Scottish Government and its agencies, Scottish Enterprise and VisitScotland, launch the Scotland is Now campaign to sell Scotland to the world as a business and tourism destination. Having built the Guinness Storehouse in Dublin into Ireland's No1 paid for tourist attraction, Diageo now plan to partner with Scottish Enterprise and VisitScotland to promote Scotch and Scotland to potential visitors around the world.
Edinburgh has been chosen as the preferred location for the Johnnie Walker investment because of the capital's particularly strong tourism growth, with the city already being home to some of the most popular visitor attractions in the UK.
The building in Edinburgh will become a new hub for Diageo's business in Scotland linking to wider social investment and creating opportunities in the hospitality sector for young unemployed people, through increased investment in the company's Learning for Life programme. Diageo will also leverage its export and innovation expertise with the venue becoming a destination to mentor Scotland's next generation of entrepreneurs and exporters.
Diageo chief executive, Ivan Menezes, said: "Scotch is at the heart of Diageo, and this new investment reinforces our ongoing commitment to growing our Scotch whisky brands and supporting Scotland's tourism industry. For decades to come our distilleries will play a big role in attracting more international visitors to Scotland. I am also delighted we will be able to bring our knowledge and expertise to help the next generation, through mentor programmes and skills training."
Welcoming the investment, First Minister of Scotland, Nicola Sturgeon MSP, said: "This significant investment will not only help attract more tourists to Scotland, offering world class visitor experiences, but it also underlines the fundamental importance of the whisky sector to Scotland's economy. Last week, I launched Scotland is Now, a new campaign that will put Scotland in the international spotlight and showcase the country's world-leading assets, such as whisky, to a global audience. Today's announcement highlights to the world that Scotland is a leading destination for tourists and business investors."
Scottish Secretary David Mundell said: "Whisky is hugely important to Scotland's economy, it is not just our biggest export, but an iconic product which draws visitors here from around the world. The UK Government is wholehearted in its support for the industry – we froze duty rates again at the last Budget, and are determined to open up new markets around the world as we leave the EU. I welcome Diageo's major new investment. It is hugely exciting, not just for Scotland but for whisky drinkers around the world who want to learn more about the history and traditions of our national drink."
David Cutter, Chairman of Diageo in Scotland said, "Over the past six years we have invested over £1billion in building our Scotch whisky production infrastructure to grow exports of Scotch around the world. With this new investment, we turn our focus to bringing the world to Scotland. This will not only build the Scotch whisky industry it will bring economic benefits to communities throughout Scotland."
Cristina Diezhandino, Diageo Global Scotch Whisky Director said, "Scotch is the world's favourite whisky and Scotland is the greatest distilling nation on earth. New generations of consumers around the world are falling in love with Scotch and they want to experience it in the place where it is made and meet the people who make it. This investment will ensure that the people we attract to Scotland from around the world go home as life-long ambassadors for Scotch and for Scotland."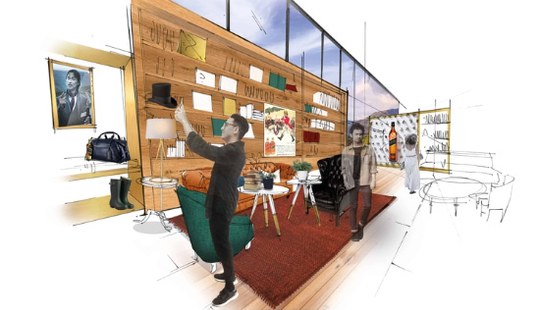 Diageo announces £150 million investment in new Johnnie Walker global brand attraction
Further detail on the £150 million investment programme:
The skill and expertise of Diageo's distillers and blenders will be spectacularly brought to life in the state-of-the-art Johnnie Walker attraction, the ultimate visitor experience in the heart of Edinburgh.
Multimillion pound infrastructure investment across Diageo's 12 malt whisky distillery visitor centres with a focus on the 'Four Corners distilleries' - Glenkinchie, Caol Ila, Clynelish and Cardhu – celebrating the important role these single malts play in the flavours of Johnnie Walker.
Building on an investment of £5m from 2012 to 2017, Diageo is extending the £1m per year funding support for its award-winning Diageo Learning for Life programme that has helped over 1,000 young unemployed people in Scotland into training and jobs in the hospitality industry over the last five years.
As Diageo builds towards the 200th Anniversary of the Johnnie Walker brand in 2020, the company plans to celebrate the brand's founder John Walker, by establishing a scholarship and mentoring programme for young entrepreneurs to encourage a new generation of John Walkers to develop their ideas into global exporting businesses, with a specific focus on supporting young entrepreneurs from John Walker's home town of Kilmarnock. This will be developed in partnership with local stakeholders.