We caught up with Laura Sharp to hear more about the opening of Cardhu's Brand Home
We caught up with Laura Sharp to hear more about the opening of Cardhu's Brand Home
16 Jun 2021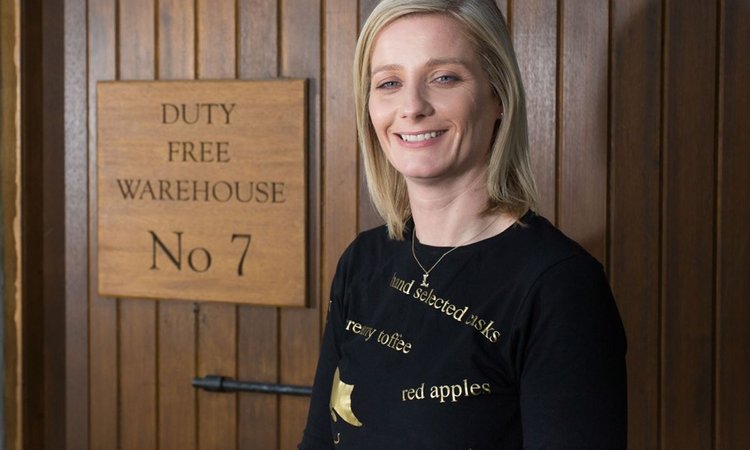 Tell us more about your current role at Diageo? What has your journey been like to get to this role?
I am currently the Regional Brand Home Manager East, this involves the running of Cardhu, Cragganmore and Royal Lochnagar Distillery Visitor Centres. I moved into this role in January and prior to that I was the Brand Home Manager for Cardhu and Cragganmore since April 2009. I started my career in the whisky industry in 1996 when I worked with Diageo but not directly employed by them – this was as a breakfast waitress at Drummuir Castle. I was employed by Diageo in October 2000 whilst working in the Heritage Visits team (currently known as the BEST Team) which involved arranging visits to Scotland for Diageo's invited corporate guests.
I am celebrating 21 years with Diageo this October but have been involved in the industry for 25 years. Prior to my Brand Home role, I was privileged enough to have worked on Project Triumph which was the building of Roseisle Distillery. At the time it was the first distillery built by Diageo in 30 years. I was employed as the administrator for the project but the role provided an amazing opportunity to learn a completely different side of the business and to be involved with such a huge iconic project. With hard work, determination, a desire to learn, develop and grow I am proud of how far I have come and so proud to have a leadership role in our business. 
What is the most exciting part of your role as Regional Brand Home Manager?
The most exciting part of my role is being able to directly engage with our consumers and being able to continually innovate how we do this in the best way we can to share our fantastic brands. Looking after three very different brands and sites means I don't do the same thing for each brand; therefore, my role is exciting and comes with many opportunities, something which I thrive on. There are not many parts of the business where you can talk directly to our consumers and can engage with them and instantly create an ambassador for our brands and impact business performance. 
Diageo have recently opened the Cardhu brand home – tell us more about this and what this means for Diageo?
This is a fantastic new experience in the heart of whisky country. It's great to have this in Speyside as we are telling not only our brand but our production story in a different way to how we did before. We have such a unique story and it is great to have a dedicated experience that tells it in the way it deserves. It not only tells the Cardhu story but brings the close connection to Johnnie Walker to the forefront of our visitors minds and showcases Johnnie Walker's deep Scottish history in its home country.
It is an opportunity to reach our consumers and inspire them to share our story, something which in turn will benefit Diageo across the globe.
Tell us about your involvement in the opening and what it has been like behind the scenes?
I have been involved with the project since it was announced and we started with the first charette at Cardhu 2019. I am so grateful to have been able to have had the opportunity to be involved from the early stages all the way through to opening for visitors. Throughout the entire process I have been able to give my ideas and thoughts to help shape the visitor experience which was great.
Behind the scenes it was very busy but fun and incredibly rewarding. There was lots to think about and deliver out with the customer journey and experience. This includes community engagement, health and safety requirements, recruitment, compliance, training and also considering the cross over into the production and distillery area. There was also a lot of filming and media visits leading up to opening so we needed to ensure they got the best possible experience to guarantee we captured the best content to really showcase the visitor experience when we opened to the public. 
I am very proud of what I have achieved with the new Brand Home and I have learnt that if you believe in what you are doing, love what you are doing and remain focused on the end goal, then no matter what challenges you face you will achieve it. 
Join Us
Inspired? You''ll find career-enhancing challenges all across our business, all around the globe. People taking on memorable challenges and working with iconic brands.