We Are All Able: Hear from our interns and Group Members
We Are All Able: Hear from our interns and Group Members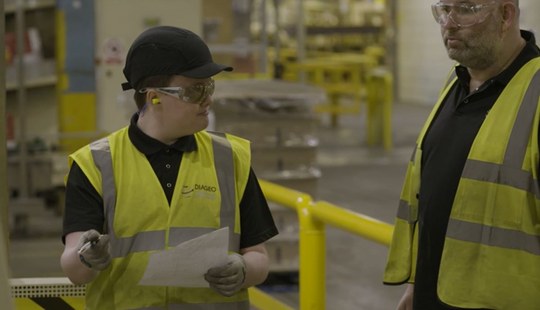 As a priority focus, We Are All Able (WAAA) supports the employment and development of people with a disability at Diageo while driving the understanding of disability across the business through education and training.  
Over the last year We Are All Able has partnered with Fairstart Scotland, a government funded employability agency who support people, bespoke to their physical, mental and workplace needs, into employment in Scotland. 
This fruitful partnership has allowed Diageo to offer career opportunities to registered disabled workers in Scotland, and successfully hire three interns and one apprentice to join the manufacturing site Shieldhall, the world's largest Scotch Whisky bottling facility.  The team at Shieldhall have also been educating our employees to support people of all abilities through a series of training courses in partnership with Enable Scotland covering topics such as autism awareness, sensory impairment and assistive technology.  
The site was recently awarded an Inclusive Workplace Award through SUSE, the lead partner in the Disability Employment Gap Public Social Partnership (PSP), commissioned by the Scottish Government. 
We thought it would be a great time to catch up with Claire McKendrick from the We Are All Able group alongside Liam Coyle – Material Store Operator and Seanpaul Mullen – Site Engineering Operator who were part of the internship programme in Shieldhall.  
What's it been like working at Shieldhall? 
"I think Diageo is a great place to work, the people on site made me feel welcome from the first time I walked up to the gatehouse! I think this welcoming culture is the main reason my confidence grew so quickly." SeanPaul Mullen 
"Diageo have offered me the experience of working in production factories and has provided me with opportunities to develop my positive working relationships and further my career." Liam Coyle 
What's been your favourite part about working for Diageo? 
"Diageo's culture has made me valued as an employee and I am given the freedom to succeed in my own way." Liam Coyle 
"I was trusted to do jobs on my own which allowed me to grow as an individual and learn loads of new skills that I can use in the future" SeanPaul Mullen 
Claire, what's it like being part of the We Are All Able Employee Resource Group at Diageo? 
 "I absolutely love being a part of the WAAA group.  The passion everyone has for making a change is unbelievable and I really feel that we represent everything that Diageo stands for.  The difference the internships have made to Shieldhall is not measurable in normal KPIs , it is in how the culture and attitudes have changed." 
It has recently been announced that Diageo's Shieldhall site has been awarded an Inclusive Workplace Award through SUSE, how do you think this will impact Diageo? 
"We are delighted to have been recognised by SUSE and we will continue to look for new and improved ways to make our workplace more diverse and accessible for all. The perspective and understanding that is brought when different people come together has been the best part of the programme.  Personally, I have learned lots too - it has been great helping the interns and having my thinking stretched on how to get the programme up and running." 
Join Us
Inspired? You'll find people working together to build a more inclusive culture and society.