Suleni Pather, Malts Global Senior Brand Manager tells us about her role at Diageo
Suleni Pather, Malts Global Senior Brand Manager tells us about her role at Diageo
16 Jun 2021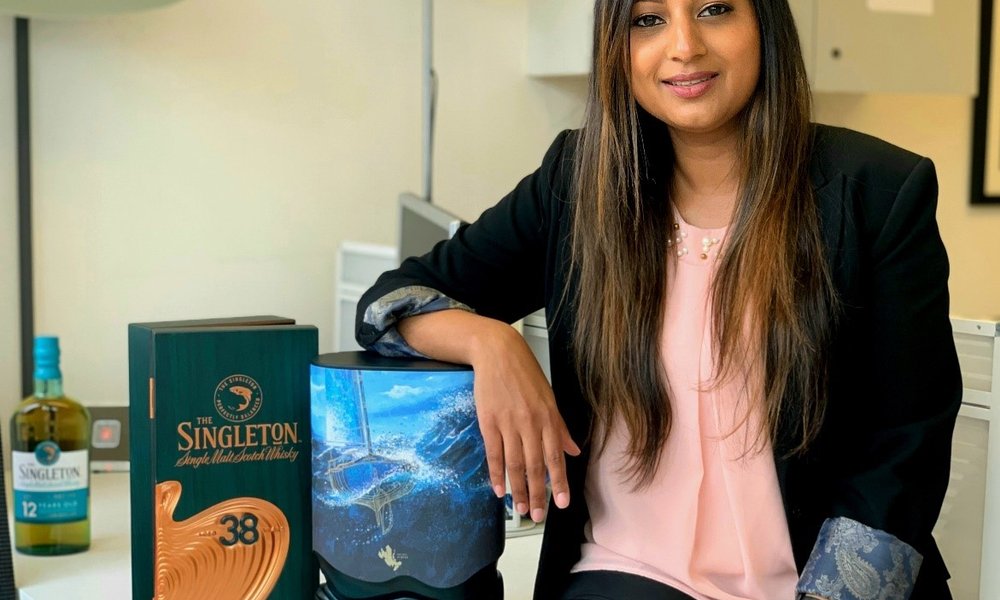 Suleni joined Diageo in 2016 as a Marketing Manager in South Africa, and today she is our Malts Global Senior Brand Manager, based in the UK. Her role involves launching new and exciting global innovations in the whisky category.
Tell us about your experience in your current role?
My experience in this role has been somewhat of a rollercoaster, in the best way. I've now spent more time working from home during this pandemic than I ever did at the office as I only moved to the UK 8 months before it all unraveled. It has been challenging working on multiple complex projects remotely, but I'm very fortunate to work with great colleagues and agencies who have made it easier to approach each day feeling motivated and excited about the work I do. Fortunately, Diageo has also provided a plethora of tools and support to ensure that I can perform at my best from wherever I am situated. 
Tell us more about your current role as Malts Global Senior Brand Manager?
In my current role, I work across all of Diageo's renowned single malts brands on various global innovation and renovation projects, predominantly in the luxury space. It is a very dynamic role as the luxury single malt scotch category continues to grow exponentially as does consumer demand for rare, high-aged, luxury whiskies.
My role is to lead a variety of projects that deliver on our long-term ambition of being the leading luxury spirits company in the world. I work across iconic brands that have been built over centuries and have rich legacies – Singleton, Talisker and Lagavulin to name a few. Excitingly, there are also the mysterious ones, some of which were new to me before taking on this role, that are steeped in intrigue and mysticism like the Pittyvaich ghost distillery or the celebrated Royal Lochnagar. No two days in this job are ever the same and that is the most fun part about it.
Talisker has recently announced the new 43-Year-Old Xpedition Oak: The Atlantic Challenge. What has it been like behind the scenes to get this to launch and into the hands of consumers?
I was lucky enough to have started on this project right from its inception as I was on the team that ideated this extraordinary whisky. Talisker 43-Year-Old Xpedition Oak: The Atlantic Challenge is a single malt scotch whisky that is the ultimate expression of Talisker. We set out to create a luxury whisky that epitomised the brands ruggedly elemental character and celebrated its rich heritage. As a whisky Made By The Sea, we knew we needed to add a nautical spirit of adventure and so we sent staves from casks across the ocean on a 3264 mile journey and then transported them back to Scotland where they were used in the whisky's final finishing.
The work behind the scenes was a mammoth task ensuring that the precious cargo, the staves, made it across the Atlantic and back to Scotland safely. It took many different teams, agencies and one solo sailor to make it happen but when we finally launched in April, it was the proudest and most rewarding point in my Diageo career to date. This whisky is the culmination of creativity, innovation, adventure, luxury and heritage and I'm so lucky to have played my part in it. 
The Singleton of Dufftown 54-Year-Old has also just been announced – tell us more about this release.
The Singleton of Dufftown 54-Year-Old is the second and final bottling in the Paragon of Time collection (the first was a 53-Year-Old released in 2019). This project was a true privilege to work on as it is the oldest single malt ever released from Diageo and The Singleton. Not only is it a prestigious release, only 235 bottles globally and a feather in the Diageo cap, it was an absolute honour to work alongside our esteemed whisky specialists in Scotland to understand the history of this last remaining cask from 1966 and bring the story to life for consumers. From a design point of view, the product itself is nothing short of spectacular - the whisky is in a Baccarat crystal decanter housed in a wooden leather-lined display cabinet, a masterpiece in craftsmanship with a fitting price tag of almost £30,000.
What are the most exciting and challenging aspects of launching innovation?
What I love most is that the calibre of projects I work on at a global level inspire me to want to be the best and deliver tangible results. For someone as results oriented as me, it has been an incredible opportunity. I get to work with the best, most experienced and intelligent minds on some of the most iconic whisky brands in the world. There are days that are challenging; working long hours across different time zones, back-to-back zoom calls and looming deadlines, pandemic notwithstanding. However, these pale in comparison to the overwhelming sense of accomplishment I feel in getting these beautiful luxurious products in the hands of consumers through impactful marketing campaigns and experiences.
How do innovations have a personal impact as well as affect business performance?
Working on luxury innovation projects has motivated me to continuously behave and think outside my comfort zone. Because the consumer landscape is so dynamic, it drives me to be adaptable, make bold choices, stay curious and always be well informed. My role requires high levels of accountability, an entrepreneurial mindset and great interpersonal skills with multiple global stakeholders, all of which have reinforced my leadership skills and experience.
From a business performance perspective, innovation is critical to driving growth and cementing Diageo's position as an industry leader. To be the leaders in luxury is tantamount to continuing to deliver world class, highly desirable, buzzworthy innovation and I am extremely excited to be part of the team that delivers on that goal. 
Join Us
Inspired? You''ll find career-enhancing challenges all across our business, all around the globe. People taking on memorable challenges and working with iconic brands.