Redefine the industry
Our founders, such as Arthur Guinness, John Walker, and Charles Tanqueray, were visionary entrepreneurs whose brilliant minds helped shape the alcohol industry. As part of our Research and Development (R&D) team, it's your mission to carry on this legacy and reimagine our brands for the world today.
You'll work with and learn from diverse teams of some of the industry's best and most innovative scientists. You'll be part of an inclusive environment, where your talent is valued and celebrated. And together with your colleagues, you'll explore new ground and push the boundaries of our industry, researching and developing the premium drinks of tomorrow.
Innovate through research
You'll get to spend your days at one of our state-of-the-art research facilities across the world, having everything you need to innovate and do some truly career-defining work. With the chance to work across brands, regions, and roles, there are huge opportunities for growth.
You'll collaborate with people from all around the globe, bringing your innovative minds together to develop the products and solutions of tomorrow.
Hear from the people
who make the magic
Aarti Calvin
GB
Aarti is a Senior Liquid Scientist within Diageo's European Innovation Research & Development (R&D) team.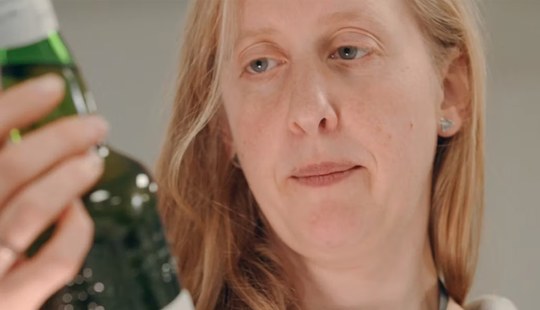 Fiona Beveridge
Diageo, Scotland
Fiona is a Sustainable Packaging Specialist in Menstrie.
Asia Pacific
Our new, state-of-the-art R&D centre will be built in Shanghai, China — the world's largest beverage alcohol market in terms of value and volume. This is an exciting addition to our existing centres.
As a part of our China R&D team, you'll have the opportunity to rapidly innovate and develop premium products that cater to Chinese consumer tastes. You'll draw on local consumer insights and trends, helping to create a premium portfolio of products developed in China for China.
North America
Our Innovation Creation Lab based in Stamford, Connecticut, focuses on accelerating innovation. The R&D team creates new products in support of the North America and Latin America innovation pipelines. Our experienced liquid developers, packaging experts, and sensory and consumer guidance team all play an important role in translating insights and ideas into products, bringing their craft to life. The team is deeply skilled in chemistry, sensory descriptive profiling, fermentation, distillation, blending, packaging materials and product research. It's the ideal environment for true collaboration and pushing the industry to new heights.
Europe
Many of our innovative R&D colleagues have their home in our Woodside Lab in Bishop's Stortford, United Kingdom. You'll have a wide variety of teams you can join in this centre: from liquid developers and packaging teams to sensory and consumer guidance teams. Regardless of which team you join, you'll play an important role in translating insights and ideas into products, shaping the future of our extraordinary brands.
We also have a laboratory in Scotland. Here, you'll play a leading role in driving innovation in sustainability from grain-to-glass, including distillation, maturation, packaging and logistics. The R&D centre is built on a remarkable heritage of innovation in the whisky industry.