We have been addressing our most material issues for a long time and our 'Society 2030: Spirit of Progress' action plan builds on our successful ESG track record. We focus on the issues which matter most, to our business, to our stakeholders and partners and to the wider world.
In developing our 'Society 2030: Spirit of Progress' plan to support sustainable growth over the next critical decade, we carried out a rigorous materiality assessment. This looked at the external trends shaping our operating environment and how we can most effectively align our work with the UN Sustainable Development Goals.
We spoke with many internal and external stakeholders and explored the findings in workshops with experts from our business functions in Bangalore, London, Nairobi, New York and Singapore. We also held a full-day workshop with our Executive Committee and had numerous reviews of the plan with our Board. These findings have guided the development of our ESG plan and priorities and we continue to welcome engagement from all stakeholders to help us in developing and delivering our plan.
We believe all the topics presented in our materiality assessment below are important to our business. This matrix illustrates the view of both internal and external stakeholders about which topics are most critical, with the rankings informing our 'Society 2030: Spirit of Progress' plan.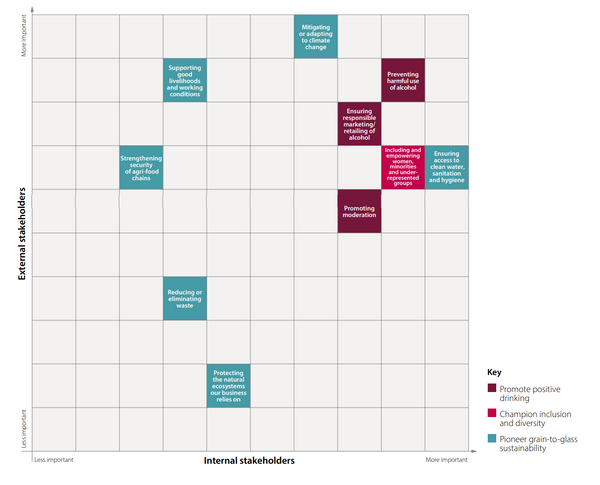 Our 'Society 2030: Spirit of Progress' plan is made up of 25 ambitious targets and is focused on three core pillars that are most material to our business - promoting positive drinking, championing inclusion and diversity and pioneering grain-to-glass sustainability.
"Our goals are built on the most material issues affecting our business and the opportunities we see, based on what we have learned through the delivery of our previous targets." - Ivan Menezes, Chief Executive, Diageo