To ensure our success in achieving the goals set out in our 'Society 2030: Spirit of Progress' action plan, we depend on both internal and external regulatory frameworks.
Our ambitious ESG goals are supported by commitments to promote positive drinking, champion inclusion and diversity and pioneer grain-to-glass sustainability. These are all underpinned by our approach to doing business the right way, everywhere we live, work, source and sell.
Overview

Stakeholder engagement
Overview
Internal management and governance
We have structures in place to ensure we successfully implement our 'Society 2030: Spirit of Progress' plan and support our teams in markets around the world.
Our 'Society 2030: Spirit of progress' plan is endorsed at the highest level in our business and embedded into all our operations. Our CEO, Ivan Menezes, and the Executive Committee are ultimately accountable for performance against our sustainability goals.
At the local and market level, our regional presidents and general managers have frontline responsibility, supported by our Global Sustainability Director and team.
The markets are also supported by Executive Committee members representing global functions. These are outlined in the table below.
Title

Area(s) of accountability

Corporate Relations Director

Overall sustainability and responsibility strategy
Positive drinking
Community impact

Chief Marketing Officer

Positive drinking (responsible marketing and branded responsible drinking campaigns)
Customer partnerships

President, Global Supply

Water and the environment
Our people (safety)
Sustainable supply chains (responsible sourcing and sustainable agriculture)

Human Resources Director

Chief Financial Officer
General managers monitor performance in their local market on a routine basis. The Executive Committee meets to discuss global strategy, performance, policies and risks four times a year. The Board of Directors signs off any changes to our sustainability plan at our annual Strategy Conference.
External policy and operating environments
Positive drinking
Alcohol is one of the most regulated products in the world and virtually every aspect of our operations is regulated, from production to distribution, marketing to labour, pensions to environmental issues.
For companies with robust corporate governance and a commitment to doing business the right way, high levels of regulation can be an advantage, where regulation is balanced to promote economic growth.
We work with governments around the world to develop proportionate, effective regulation while our engagement with government bodies is always professional and governed by our Code of Business Conduct.
Stakeholder engagement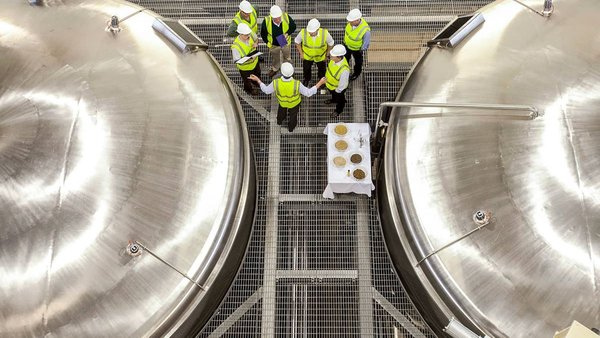 We want to understand the expectations, needs and concerns of anyone who is affected by what we do and where we operate. This means listening to our stakeholders and learning from what they tell us.
For us, everyone who is affected by our business, and everyone who affects it, is a stakeholder. Our stakeholders range from employees to investors to corporate partners, and from consumers to communities, farmers and governments.
We actively engage stakeholders at both local and global levels.
At a local level, employees across our business engage their colleagues, local governments, customers, media and community groups on issues of immediate concern to them.
At a global level, we talk to investors, customers, suppliers and multinational organisations such as United Nations agencies and NGOs.
Programmes by stakeholder group
The table below sets out each stakeholder group and gives examples of how we currently engage them on all issues, including sustainability and responsibility questions.
Stakeholder group

Programme

Investors

Annual Report
Formal annual general meetings
Meetings between investors, senior leadership, and investor relations team
Conversations between investors, sustainability and responsibility team, and investor relations team
Annual investor audit
Online communications
Investor conferences
Investor road shows
Annual CDP (formerly Carbon Disclosure Project) submissions
Indices such as the Dow Jones Sustainability Index

Employees

Employee Your Voice Survey
Team meetings
Employee intranet/newsletters
Forums
#proudofwhatwedo
Special society/environmental events, e.g. Earth Day

Consumers

Consumer carelines
Formal market research
Brand and corporate websites
Social media
Product information on packaging

Government/regulators

Briefings and direct meetings
Multi-stakeholder forums

Local community organisations and NGOs

One-to-one meetings or conversations
Multi-stakeholder forums
Annual reviews
Ongoing partnerships

Farmers

One-to-one meetings or conversations
Open days
Field and factory visits
Workshops with value-chain partners
Connecting farmers with finance and agri-business partners
Radio and television programmes in Africa

Other commercial partners

Annual customer survey
'Top-to-Top' meetings between senior executives from Diageo and our customers
Third-party supplier audits
SpeakUp helpline
Responses to customer requests for sustainability information