A year working in partnership with Black, Latino, and Native American organizations to address alcohol-related harm in the U.S.
A year working in partnership with Black, Latino, and Native American organizations to address alcohol-related harm in the U.S.
Research shows that socio-economic factors, diverse cultural views and alcohol use disorders are some of the reasons that show why drinking affects ethnic communities differently. As a company that advocates for moderation and prioritizes addressing the harmful use of alcohol, this context has led Diageo to explore a new approach that helps reach distinct demographic groups in the U.S. with resources and education.
In 2022, we established the Multicultural Consortium for Responsible Drinking (MCRD) in partnership with influential members of the Black, Latino and Native American communities, including law enforcement, faith-based and media organizations. This past year the MCRD reached over 1.6 million people through various engaging events and community media partnerships that focused on raising awareness on the risks of alcohol-related harm and providing education to these communities.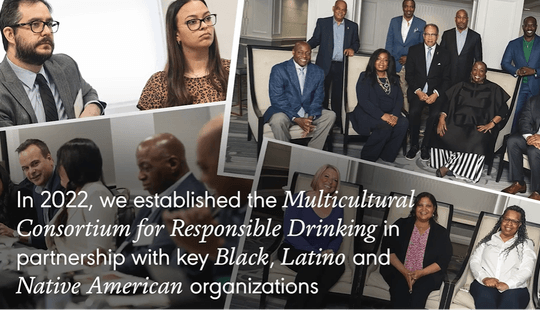 "On behalf of the National Newspaper Publishers Association, we're very pleased with the progress we have made with the MCRD. Over the past year, we've received a positive response from the constituents we represent across the country and we're seeing more possibilities. People are ready for education surrounding responsible drinking." - Dr. Benjamin Franklin Chavis Jr., President & CEO of the National Newspaper Publishers Association.
"The MCRD has developed a game plan that really targets the ethnic groups and has been able to deliver that message of responsible drinking and what that looks like." - Sylvia T. Miranda, Executive Director of the National Latino Officers Association.
"Our collaboration has brought the native American community to the forefront and the importance of responsible drinking within our culture." - Carolyn Lewis, Retired Captain, NY City Department of Corrections.
Raising awareness in communities of color
By combining the expertise of member organizations and a range of informative resources, the MCRD is educating people on the effects of alcohol and the impact of impaired driving –including the debunking of myths and misconceptions across these communities. Tools and educational resources include:
Wrong Side of the Road, an interactive learning experience that helps educate drivers and stigmatize impaired driving.
DRINKiQ.com, a resource that provide information about the effects of alcohol, empowering people to make informed choices. It's also available in Spanish at DRINKiQ.com/espanol.
The not-for-profit organization Responsibility.org also joins the MCRD by expanding the programs reach across the country and advance the mission of educating communities of color on the risks of alcohol-related harm.
Footnote: Founding members organizations of the MCRD include: National Organization Black Law Enforcement Executives (NOBLE), National Black Church Initiative (NBCI), Omega Psi Phi Fraternity, The Positive Community  magazine, International Association for Indigenous Aging, Indian Country Today, Shinnecock Tribal Nation, Native American Law Enforcement representatives, National Association of Hispanic Publications (NAHP), National Latino Officers Association (NLOA) National Hispanic Council on Aging (NHCOA), National Health Information Technology (NHIT) and Diageo North America.