Diageo's INC Week creates sense of belonging for employees around the world
Diageo's INC Week creates sense of belonging for employees around the world
Coinciding with Global Diversity Awareness Month, Hispanic Heritage Month in the US, Black History Month in the UK, and World Mental Health Day, the 6th year we've recognised INC Week saw us delve into a broad range of topics, with panels, discussions and celebrations broadcast in countries around the world, to truly make this the biggest and most impactful year yet!
This year's theme of 'Celebrating You' has seen people join sessions across the globe, representing 23 countries and functions, with a broad range of subjects discussed including ethnic diversity, mental health, disability, menopause and more.
Some of the highlights included…
Our North America team were joined by renowned career coach and PILOT CEO, Ben Brooks, alongside Vice President of People Housing Works, Maria Salas, for a dynamic conversation about psychological safety, the ability to perform at work without fear.
For an event in Mexico, mother, editor and columnist Bárbara Anderson, shared stories of people living with disabilities, how they've fulfilled their dreams, and the importance of promoting inclusion for all.
In a session led by our Northern Europe team, alongside a medical expert from our Menopause partner Balance+, our colleagues explored how we can all be better informed, and better allies to those who experience menopause.
LGBTQIA+ inclusion was explored in APAC, and colleagues discussed the role we can all play in creating an environment where everyone brings their true selves to work.
An event on prioritising mental health in Nigeria, helped our colleagues understand how we can help reduce the stigma that people with mental illness can be subjected to.
During a GB session, guest speaker and presenter Alex Manners brought to life what Asperger's Syndrome is, and shared important advice on how to support those with Asperger's in the workplace.
"INC Week is a fantastic opportunity to get together and have meaningful discussions, and the response this year has been incredible. During the week, our colleagues from Mexico to India took the chance to learn and have open conversations on important areas of our Inclusion and Diversity agenda. I'm excited to see what's ahead as we continue to build an inclusive environment, so we can all truly thrive both in and outside the workplace."
Christian Laya, Global Head of INC Week
Alongside our leaders and colleagues, we had the pleasure of welcoming a host of inspirational speakers to address key topics and share their personal experiences. Alongside those mentioned above, a session between Louise Prashad, our Chief HR Officer and scholar, author and women's advocate Dr Tererai Trent discussed why a truly inclusive culture is important.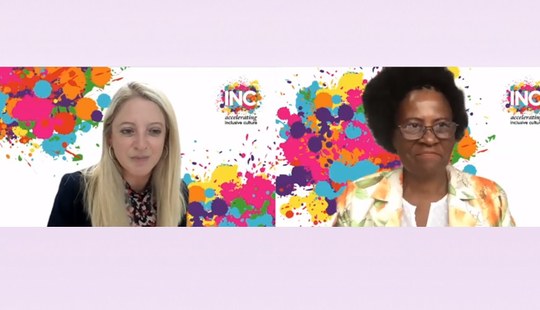 Video: Inc. Week 2022 - In conversation with Dr. Tererai Trent
"We come together every year for INC Week globally to celebrate our unique individuality. During the week we reflect on topics which take us out of our comfort zone and learn how we can support one another to be at our best. Dr Trent summarised this perfectly in our opening session as "Sawubona" which means "I see you". A huge thank you to all employees that are working hard to make this a reality and to Dr Trent for an inspiring kick off to the week."
Louise Prashad, Chief HR Officer
INC Week also saw the next phase of our #MyNameis global campaign launch across our channels, and within the business. The third phase of the employee generated campaign, first launched in June 2021, celebrates the many faces and names that make up our community, and the importance of pronouncing names correctly.