The Guinness Open Gate Brewery is where our brewers are charged with exploring new ideas in beer that we can then share in small batches in our tap room.
Beers selected for further development are brewed in greater volume in Brew House 4 at St. James's Gate or in one of Guinness's other breweries overseas. All Guinness innovations around the world are developed at the Guinness Open Gate Brewery.  
Located in The Liberties, there has been an experimental brewery at St. James's Gate going back over 100 years. In 2015, Guinness took the step to open its gates and share its creativity and beer innovation with everyone.  
From Wednesday to Sunday beer fans can meet the team of Guinness Beer Specialists to chat all things beer, brewing and hops in the experimental brewery – or just shoot the breeze, they're a friendly bunch! The bar space features an open wall looking over the production area and industrial seating - the perfect setting to explore and discover various beer styles and flavours.  
The Guinness Open Gate Brewery also offers a newly revamped, outdoor beer garden, where you can sit down and enjoy some delicious food and brews in their cosy new snugs.  
Careers at The Guinness Open Gate Brewery
The Guinness Open Gate Brewery is an iconic visitor attraction that provides world-class visitor experiences to all our visitors from around the globe.  We want every one of our guests to enjoy an unforgettable experience when they walk through the doors of the Guinness Open Gate Brewery. That begins and ends with the people who will work there.
We have iconic roles such as Managerial roles, Beer Specialists and many more. If you have a proven experience within Hospitality/Retail/Travel and Tourism, then we want to hear from you!
In return, not only do we offer a great reward & benefits package, we'll also provide you with excellent training and career development opportunities, setting you up for a fantastic career at Diageo.
At Diageo, we believe in celebrating life, every day, everywhere, and we can offer you flexibility with a range of shift and working patterns available
Guinness Open Gate Brewery team
Join the Guinness Open Gate Brewery team to provide engaging and memorable tours and play a key role in the success of our onsite retail store.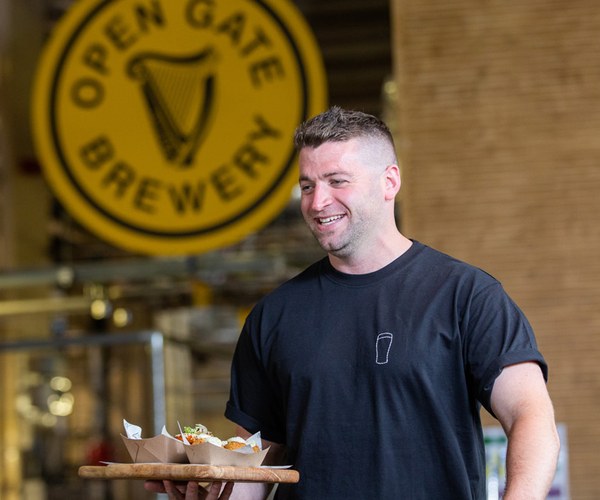 The Guinness Open Gate Brewery