Begin your career
As an apprentice at Diageo, you'll contribute to the work that goes into making, bottling and distributing our much-loved premium brands — like Johnnie Walker, Captain Morgan, Baileys, and Guinness — around the globe. You'll earn as you learn, enjoying an attractive reward and benefits package as you develop your knowledge and skills.
What's more: you'll be part of an inclusive culture, where you're celebrated for your achievements and empowered to be the best you can be. Together with talented people from all corners of the world, you'll do work that's absolutely crucial for building our iconic brands.
Learn every day, in every way
Variety is key in all our apprenticeship programmes. You'll learn for two, three, or four years, depending on which programme you're joining. Most importantly: you'll get practical skills that you'll use on-site, whilst gaining all the knowledge you need to obtain a recognised, national qualification.
You'll learn through a combination of:
Learning in the classroom: you'll study for the national qualifications that are specific to your programme and field (e.g. an SCQF Level 6, HNC in Engineering)
Learning in the workshop
On-site learning: you'll put everything you learn into real-world practice
"I chose an apprenticeship with Diageo to build a long-term career in a well-established company and Diageo is well-known as being a great company to work for. I knew I didn't want to go back to college or university and by taking this role as an apprentice I am able to learn whilst gaining qualifications."
"My favourite thing about the apprenticeship is the opportunity to learn and develop in multiple areas and skills. The support has been amazing. I chose this career path as I'd heard so many great things about Diageo. I wanted to have the opportunity to learn as much whilst being part of this amazing company."

Jodie Cunningham

Operator Apprentice, Scotland
Hear from some of our apprentices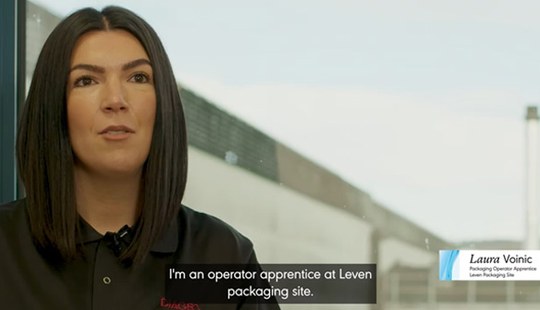 Laura Voinic
Packaging Operator Apprentice, Leven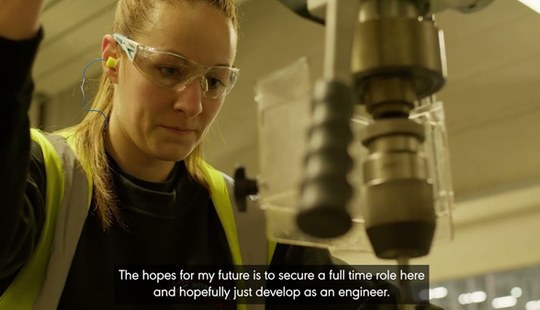 Teri Skivington
Apprentice Mechanical Engineer, Leven